Australia window tint laws are different in certain territories and states.
This article provides all relevant information about window tinting laws in Northern Territory (NT).
Northern Territory Window Tint Laws
In Northern Territory (NT) windshields may only have a tinted strip on top, equaling to either 10% of total windshield area, or the portion of the windshield above the reach of windshield wipers, whichever is greater.
Front side windows must have a minimum of 35% light transmittance, or block 65% of total light.
All windows behind driver (rear side windows, rear window) may have 15% light transmission or more.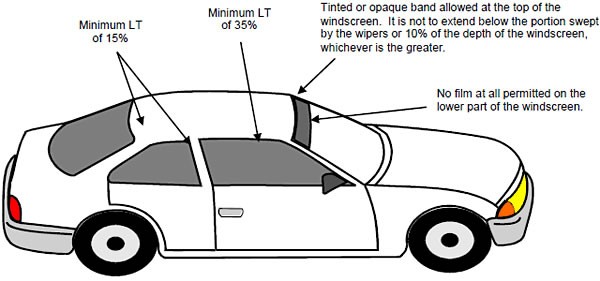 Tinting windows below 70% VLT requires having left and right external rear view mirrors.
Other NT tint laws:
NT tint law sources
Northern Territory Government, Vehicle Standards for Registration, Window Tinting Standards. Windscreen tinting in Appendix F – Windscreen damage and repairs.
NT Government Information Bulletins: see V51 – Vehicle window tinting (.PDF file; mirror link).
These Northern Territory tinting laws are effective since 21 December, 2015.
Car window tint laws in Australia
Each AU state or territory has its own rules and regulations, and violating vehicle equipment laws may get you in trouble when visiting other parts of the country.
See our main Australia Window Tint Laws page for an overview of car tinting laws for all territories and states and to find out if Australian Capital Territory Window Tint Laws are legal in other parts of Australia.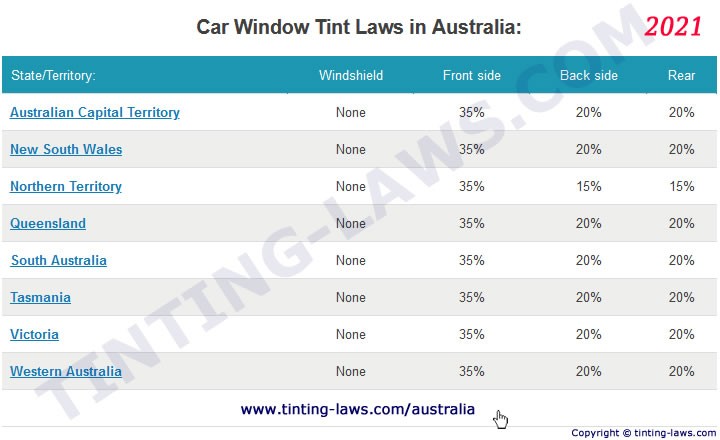 More AU tint laws info
Relevant information
To learn more about window tint and laws be sure to check some of our articles!