In New Zealand window tint is legal to use up to a certain darkness level.
This article will give you a brief rundown of New Zealand window tint laws and other regulations concerning these vehicle modifications.
If you're looking to install window tint in NZ the law permits the following:
Legal window tint in New Zealand
What is the legal window tint in New Zealand? It has very specific laws, and in NZ you can have the following window tint darkness:
Windshield: no tint allowed except an anti-glare band on top part.
Front side windows: minimum 35% VLT allowed.
Back side windows: minimum 35% VLT allowed on passenger vehicles, any percentage for others.
Rear window: minimum 35% VLT allowed for passenger vehicles, any percentage for others.
For more detailed information please see below.
Windshield
In New Zealand you can not legally apply any tint percentage on front windshields.
However you can apply anti-glare bands on top part of windscreens which (as law defines) extend no further than bottom of the sun visors when folded against the windshield.
Any print (as in letters or other advertisements) applied must also not extend further than 10cm from the top or 5cm from sides.
If you decide to tint the top portion of your windscreen it's a good rule of thumb to tint no more than 12cm in total, with 10 being on the safe side.
Overall visible light transmittance on windshields must not be less than 70%, but this is valid only for factory-made tinted windows.
New Zealand law clearly states windshields may have no overlay except as noted above.
Side windows
Windows to the immediate left and right side of driver, and side windows behind the driver may have no less than 35% VLT (Visible Light Transmission).
Side window behind driver (rear windows) tint requirements of 35% only apply to passenger vehicles: sedan, station wagon, hatchback, sports car, and convertible cars (Class MA vehicles).
Trucks, vans, SUVs, limousines, body transfer, or other vehicle types can have any tint darkness on windows behind driver's seat. Find out if your vehicle is passenger or MPV here.
35% VLT means 65% of total light coming through windows is blocked. See our window tint calculator for visual examples of various levels of darkness!
Rear window
On passenger (Class MA) vehicles rear windshield must have above 35% VLT. Multi-purpose vehicles (MPV) such as SUVs and vans may have any tint darkness on rear windshield.
Important: if rear window is tinted vehicle must have exterior rear view mirrors on left and right side.
Tint reflection
New Zealand window tint laws state that no window overlays may have a mirrored effect sufficient to dazzle other road users.
Although the reflectance level is not clearly defined we do not recommend using window tint with any light reflection.
Other regulations
As mentioned above, ensure you have left and right rearview mirrors in case you tint back windows.
Stickers, text, or other similar advertisements may only be installed on top 100 mm of windshield and other windows, and 50 mm from other edges.
Rear window stickers can be fitted anywhere on non-Class MA vehicles.
NZ laws also allow installing window tint with any darkness level on sunroofs.
Furthermore any scratches, discoloration, bubbling or other defects in window tint which impair a driver's vision are not permitted.
This includes cracked windshields and windows which must be repaired according to Australian/New Zealand Standard 2366:1999 Windscreen Repairs.
NZ window tint sources
New Zealand Transport Agency (Vehicle Windows, wipers and mirrors).
NZ Land Transport Rule, Rule 32012/1 (Glazing, Windscreen Wipe and Wash, and Mirrors; see under Section 3 – Modification and repair of glazing).
New Zealand Window Tint Laws Infographic
We created a small infographic with NZ car window tint laws: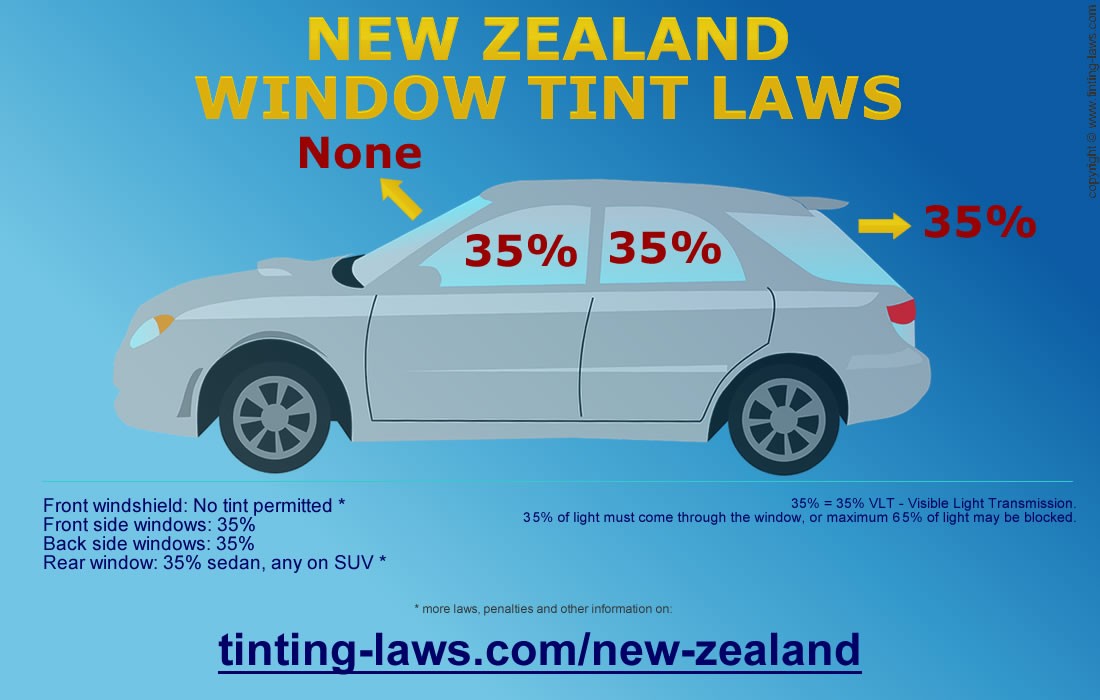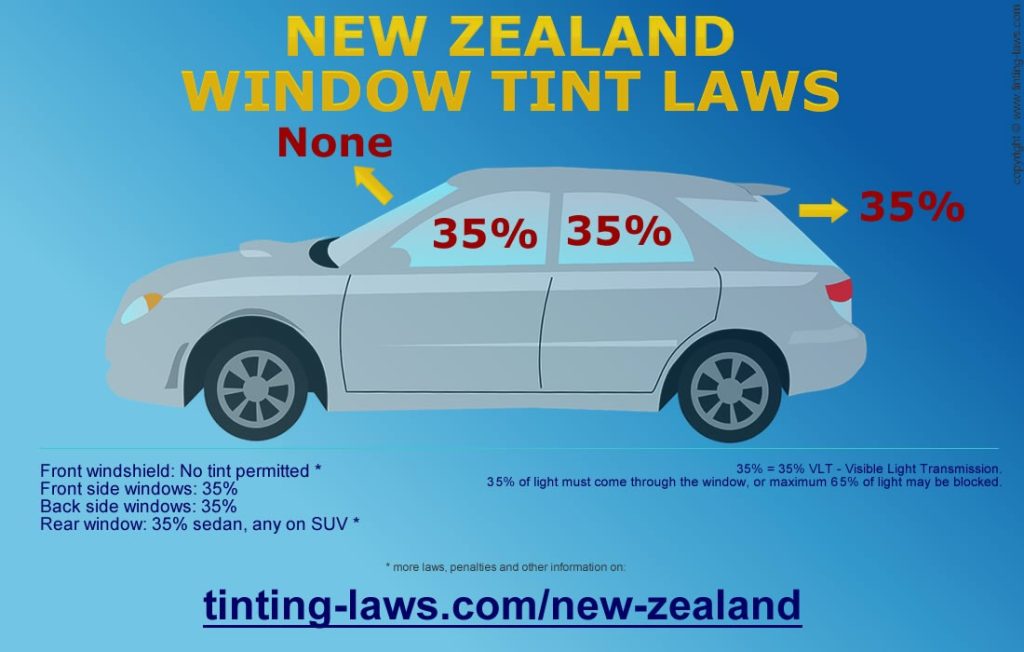 Feel free to download or share the image, but please leave our credits intact. Thank you!